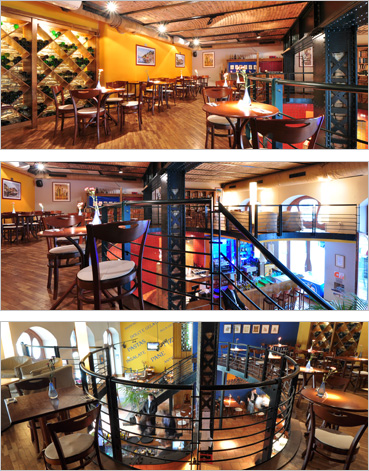 We opened our first Pizza Express restaurant in 2001 at Andrássy út 41. The name of the restaurant was changed to San Marzano in 2002 after an expansion of our menu. It was under this name that we opened two additional restaurants in 2002 and 2003. One of these is located in Vécsey utca near the Parliament, while the other one is situated in the beautifully renovated Market Hall building in Batthyány tér. After our menu was further expanded and following a change in our corporate image, we began operating under the name Pizza Marzano. 2011 was a year of additional improvements. The name of our restaurants was changed to Pizza EATaliano after an expansion of our menu, the strengthening of our general standards, as well as the improvement of our external and internal quality control processes.

Pizza EATaliano restaurants offer traditional thin and crusty Italian pizzas, authentic pastas, salads and grilled dishes. Our pizzas, dough balls and breads are handmade one by one and our pizza dough is kneaded using our own special recipe. All our dishes are made from fresh ingredients and the pizza sauce used for our pizzas is imported straight from the San Marzano region in Italy. We offer some of Italy's best wines, and our Italian coffee and our homemade desserts are also one of a kind.

Our business philosophy is centered around first-class ingredients, reasonable prices that reflect quality, a high standard of service, and an attractive interior with unique design elements. Our goal is to make each and every member of the Pizza EATaliano chain the best pizza restaurant out there.

UPDATE: Taking the serious effects on the restaurant business of COVID we had to close our first restaurant at Andrássy street after 19 years continuous operation. We just missed the 20-years celebration with 5 months. What a heartache…
From now on we focus on our Pizza EATaliano Pest and Pizza EATaliano Buda restaurants with all our resources.